How CFOs and finance managers optimise the financial consolidation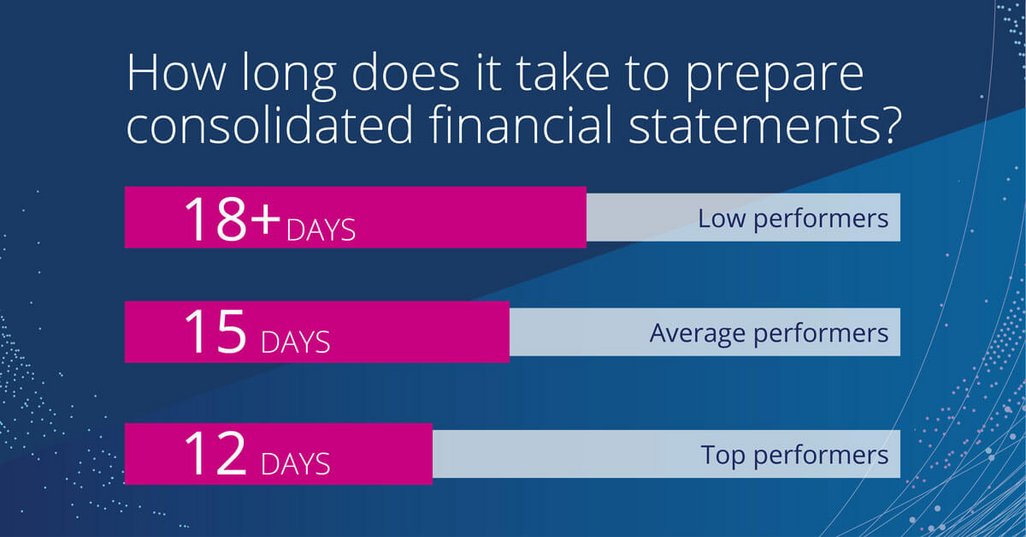 Financial statement expert, controlling all-rounder, reporting specialist: Nowadays, the role of a CFO is primarily characterised by versatility. While CFOs tended to act in an administrative capacity in recent years, they are now operating as business partners within the company. In order to be able to make important strategic decisions for the company, a holistic view of the financial data is indispensable. Automated financial processes help CFOs and finance managers do just that. As these replace time-consuming, manual process steps, more time can be dedicated to the important analysis of financial data.
In many companies, the financial consolidation is a process step that is still carried out manually and thus inefficiently. Automating the consolidation process with the help of a professional software solution pays off, as it not only eliminates the error-prone work with Excel, but also saves important resources.
Read about the challenges CFOs and finance managers face concerning the preparation of their consolidated financial statements and the benefits of a professional software solution for consolidation.
Does your finance team still use manual processes for consolidation?
Do you still rely on manual processes for consolidation, intercompany reconciliation and financial data validation? A quicker and more accurate financial consolidation is easier than you think – if you familiarise yourself with the challenges of preparing consolidated financial statements.
Top 3 challenges concerning financial consolidation
We will highlight three challenges that make it difficult for CFOs and finance executives to ensure efficient preparation of consolidated financial statements:
Challenge 1: Lack of a single point of truth
Many finance teams still work with various systems that they draw their data from. Some larger companies work with numerous financial tools that are not automated into a single point of truth. Instead, finance teams invest precious time in manually re-entering the data. The result: missing and inaccurate financial data, which makes it difficult to prepare auditable consolidated financial statements.
Challenge 2: Time-consuming intercompany reconciliation
A major obstacle standing in the way of a successful consolidation process is the collection of individual financial statement data. Collating data becomes even more difficult when the entire intercompany reconciliation process is done manually. Many finance teams struggle with numerous Excel files that not only take up a lot of time but also result in inaccurate data. In addition, finance teams still coordinate via e-mail, phone and chats, which can lead to delays and miscommunication.
Challenge 3: Poor data quality
#DIV, #VALUE, #NV and co.: Does that sound familiar to you? If you still rely on Excel and error-prone formulas for your financial consolidation, it is time to make a change. Working with Excel poses risks, especially when several members of your finance team are simultaneously preparing the consolidated financial statements in the same table. It is not uncommon for rows and cells to be accidentally deleted or for formulas to be lost entirely. If your finance team takes too long to perform the financial consolidation, relevant data needed to prepare the financial planning for the company in a timely manner will be missing. Automated processes are essential to ensure fast, accurate consolidation.
Opt for an automated process for the financial consolidation
How does a professional solution help you with the preparation of your consolidated financial statements? Among other things, you benefit from these three advantages:
Advantage 1: Rely on the single point of truth
Since LucaNet is designed to prepare consolidated financial statements, our software can help you achieve one of the things that is essential to good corporate management: a holistic view of your financial data. In the world of finance, it's important to have just one version of the truth. Our solution covers all the aspects of internal and external accounting.
More specifically, it integrates the areas of consolidation, planning, reporting and analysis in the same homogeneous system by incorporating and interlinking all of its workspaces in the same data model. Meanwhile, you can rely on LucaNet's automated interfaces to import information from a wide variety of data sources and bring it all together without any hiccups.
Advantage 2: IC reconciliation at the push of a button
Different ERP and financial accounting systems in the subsidiaries as well as Excel formulas that have to be maintained manually quickly lead to errors in the consolidated financial statements. With the help of a professional solution for intercompany reconciliation, your finance team can finally bring order to the chaos. Rely on automated software to collect your financial data, map intercompany reconciliation with 100% transparency and handle the entire process of capturing and validating data for you.
Advantage 3: Lower complexity, higher data quality
Tired of manually combing through various Excel files to find errors in the consolidated financial statements? A professional software solution simplifies complete data management. At the push of a button, importing, capturing and validating data becomes a breeze. This way you can easily focus on the data analysis.
Summary: Advantages of software for the financial consolidation
We have summarised the most practical advantages of professional software for financial consolidation for you:
You have a single point of truth for integrating, standardising and breaking down financial data.
You save time and resources thanks to automated consolidation processes.
You will be able to perform intercompany reconciliations quickly and accurately.
You gain more clarity on your financial data and thus ensure data quality.
You can eliminate intercompany transactions– with a single click of the mouse.
Our e-book "The fast track to reliable consolidated financial statements"
Are you looking for more useful information on how to simplify your financial consolidation? We have put together a compact e-book for you that demonstrates how the LucaNet software for financial consolidation makes life easier for various finance teams, with reference to our customers:
Why it is time to optimise the way you prepare your consolidated financial statements
The five biggest challenges concerning financial consolidation
The path is the true destination: How to achieve an error-free financial report
In a nutshell: How expert software helps you